Born in 1927 Jack or Jackie (as he was known) was the youngest son to Tom and Maria
Jack married Nancy Nicholson in 1953 and started their family the following year - 7 girls and 2 boys:
   Maria                      1954

   John

Thomas

            1957

   Margaret                 1958

   Susan                     1959

   Jayne                      1960

   Caroline                  1962

   Joanne                    1963

   Lavinia (

Vina)

            1965

   Patrick                     1967
Jack was the musician of the family and had a good ear for music, spending many hours entertaining his audience with his skill on the "squeeze box"
He passed away in August 1967 at the age of 40, just 6 months after his youngest son Patrick was born
Jack is buried at West Auckland cemetery alongside his wife Nancy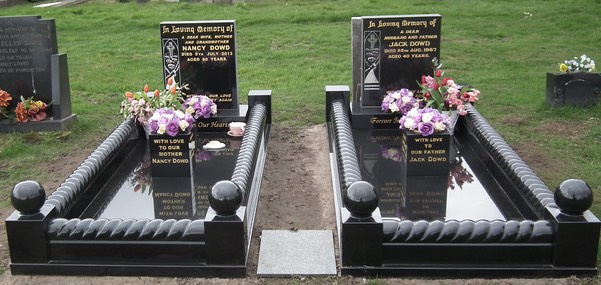 His wife Nancy passed away age 80 in July 2013
The Northern Echo
Hundreds turn out for funeral of mother-of-nine
Wednesday 17th July 2013
By Dani Webb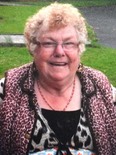 A VILLAGE was brought to a standstill today (July 17) as hundreds of people turned out to pay their respects to "a true gypsy lady".
Dozens of family and friends of mother-of-nine Nancy Dowd, 80, of West Auckland, County Durham, walked behind the horse and cart carrying her coffin.
Her funeral took place at St Wilfrid's RC Church, in Bishop Auckland, before her coffin was transferred from a hearse to a horse and cart at St Paulinus RC Church, in St Helen Auckland.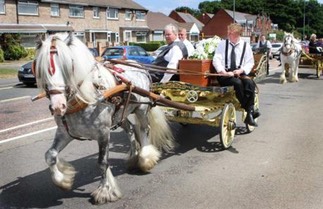 The procession, which also included flatbed trucks packed with flowers, went from there to the cemetery in West Auckland. The main road through the village was brought to a standstill and onlookers stood and paid their respects.
In a tribute to the West Cornforth-born grandmother-of-30 and great-grandmother-to-48, her family said: "She was a true gypsy lady and mother-of-nine who she raised on her own when her husband Jackie passed away 46-years-ago.
"She worked hard all her life and always paid her way. She never asked anyone for anything. She will be sadly missed by a lot of people from all over the world." Her family said she loved going to all the fairs with her horse and wagons.
The tribute continued: "She was very well liked and respected by everyone she knew, even the dustbin man.
"Her door was always open to her grandchildren and great-grandchildren. She always had a pan on the boil and fed all her neighbourhood.
"She always had a beautiful home and it was immaculate. Lots of people will remember her for her lively and outgoing personality. She was the heart and soul of the family and this is the end of an era."