The tracing of one's family tree can be a daunting task to say the least, as I have come to realise over the past few years. 
On my wife's side (Pauline Taylor) the majority of the work was done for me some years ago by a family friend, and work still continues on it when time allows. Currently, "Pauline's side" is traceable to 1750  without any breaks. How much further we can go back will only be decided with time and effort.
As for the DOWD side... I knew the task would be a difficult one from the start.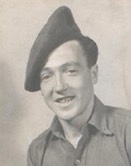 At the beginning of 2003 my family tree went back as far as my father.... and I was up against a brick wall. The problem being - my father was born in St. Helen Auckland, County Durham...…!
He was called up shortly after his 18th birthday - towards the end of World War II - serving with the Royal Army Ordnance Corps, attached to the Durham Light Infantry. He was billeted at Barnard Castle and Aldershot whilst in the UK, and was eventually posted out to Dusseldorf in Germany.
Returning from Germany, he was billeted at Proteus Camp, Ollerton in North Nottinghamshire. It was here that he met and married my mother - Sheila Jennings - and that's where the problem lay - he never returned to his roots, instead, settling down to his new life in Barlborough, near Chesterfield.
Although I have vague memories of visiting my Geordie Cousins in the very early 50's, being only 5 or 6 year old, the "old grey matter" ain't what it used to be.
Contributing to my lack of knowledge is the fact that I left school at 15 and joined the Army, where I spent the next 20 years away from the "normal" family get-togethers, weddings, christenings, funerals etc., and with Mum and Dad now passed away it looked (at the time) like I had/have a job on my hands