Born around 1860 in the small village of Coolaney, County Sligo, Ireland.
With various documents to hand, it is still difficult to pinpoint his actual year of birth. His marriage certificate for 24th March 1883 lists him as 22 years old - making him born in 1861, yet his death certificate gives his age as 75 on 26th May 1932 - making his year of birth 1857
Below is his age timeline as recorded on various documents:
     Recorded Year              Event               Age Given                 Est. Year of Birth
             1883                      Marriage               22                                  1861
             1891                      Census                  31                                  1860
             1901                      Census                  39                                  1862
             1911                      Census                  52                                  1859
             1932                      Death                   75                                   1857
Not very helpful I know, and without his birth certificate, I can only apologize for the estimate year of birth as 1860
On the majority of documents held by me, and on some of the official census returns, his surname is listed as DOUD and not DOWD. His marriage certificate identifies him as PATRICK DOUD, his father is JOHN DOUD, and he is listed on Patricks marriage certificate as "John Doud (Deceased) Farmer"
….and to add even more confusion to the surname - William, the 3rd eldest surviving son of Patrick, joined the army during WW1 with the name DOWD, yet on his gravestone - and his wife's (Jane Ann) - it clearly reads WillIam O'Dowd and Jane Ann O'Dowd. (see his page)
The Ireland Public Record Office, which held all the census forms of the 19th century, was destroyed by fire in 1922, therefore researching Irish ancestry can prove rather difficult without the help of surving family elders. So to trace Patrick's family beyond his "assumed" birth year is somewhat going to be difficult. All that has come to light thus far is the information given above - Patrick's marriage certificate
Patrick married ELLEN LAMB (of West Auckland) on 24th March 1883 aged 22, Ellen being 3 years younger at the time. The witnesses being William Blakiston Dean (Clerk to the Registrar) and Richard Hendy (Solicitors Clerk)
Finally after a few years searching for Patrick prior to 1883, I believe I have found him lodging over in Newton in Makerfield, Lancashire. He's living with the Garraty family along with 3 other lodgers.
If we are permitted to "assume" on information obtained… my story of Patrick goes like this…….
John (Patrick's father) being a farmer, was caught up (as a lad) in the potato famine of 1845-52 along with his family - maybe losing them to the famine? Having himself survived, he met and married his (unknown) wife. They had Patrick in around 1860. Then as things were looking up, in 1879 the blight returned in force bringing the possibility of renewed starvation and further evictions in the west of Ireland.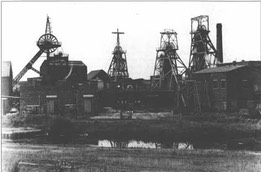 Patrick being a teenager at this time decides to leave home rather than risk the possible effects of earlier years, and came across the water to seek a better life for himself. Arriving in Liverpool, he found lodgings in Newton In Makerfield - perhaps pre-arranged with the Garrity family! Perhaps he found himself work at the newly opened Bickershaw Colliery a few miles up the road. Coal mining now in his blood and the prospects of "things to come" he moved over the Pennines to the Durham coalfields, settling in the West Auckland area. Starting work at probably Bildershaw Colliery, gave him the opportunity to meet Ellen Lamb - perhaps he worked at the same coal mine as Ellen's father, who may have introduced them.
Marrying Ellen in 1883, they settled into married life, and started producing their family:
John          (1883 - 1885) died age 2 - reason unknown

Thomas     (1885 - 1952)

Mary          (1888 - 1961)

John          (1890 -     ?  )

William      (1892 - 1967)

Annie         (1895 - 1987)

Ellen          (1898 - 1899) died at 21 months - pneumonia

Harry         (1900 - 1945)

Ellen          (1903 -    ?  )

Florence     (1907 - 1984)
Mathematics tell us that Ellen may well have been pregnant with John (the first-born) when she married Patrick
Although the family elders had indicated (during my research) that Patrick may have originated from County Sligo, it wasn't untill the 1911 census was released for public viewing that we had confirmation of his roots - Coolaney, Sligo.
The 1911 census also indicates that Patrick and Ellen had 11 children, 2 of which had died and 9 surviving. This is incorrect. The last child listed on the census form - Ethel Doud (age 2) is shown as daughter to the head of the family. In fact Ethel belongs to Mary (Patrick's eldest daughter).
From this information we can assume:
Patrick misunderstood the question regarding children in the household, or

A deliberate attempt to hide the fact that Mary had a child out of wedlock -

father unknown
I would guess it was a case of Patrick's misinterpretation of the question on the census form, as we already have evidence that Patrick and Ellen were both illiterate in earlier years.