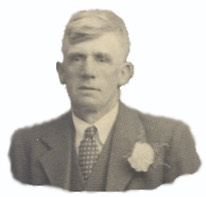 Fifth child, and third eldest surviving son of Patrick and Ellen
William was born on 31st December 1892 at Foundry Yard, West Auckland, County Durham.

He is the one responsible for the surname confusion.
Although he was born a Dowd (Doud) and joined the Army in WW1 as a Dowd, his headstone tells a different story - see below
He married Jane Ann Whitworth in April 1920 as a Dowd, and for reasons unknown, he then used the name O'Dowd.
William and Jane Ann had five children.
Mary Ellen               b. 1920    d. 1924

Benjamin Patrick     b. 1922    d. 1981

Joan Patricia           b. 1926

Joseph Kenneth      b. 1931

Marie                       b. 1935
Mary Ellen was born a DOUD (have her registration at Birth Certificate) yet when Benjamin Patrick was born 18 months later - he took the name O'DOWD with his next sister Joan Patricia taking the name O'DOUD (please keep up).
Joseph Kenneth, 6 years later, was registered as DOUD… and finally Marie (1935) was registered as a DOWD 
Jane Ann passed away on 25th September 1955 (age 59) and William died on 20th January 1967 at the age of 74.
They are both buried in Bishop Auckland cemetery - and consequently, when daughter Marie took care of the headstones - O'DOWD was immortally engraved on them both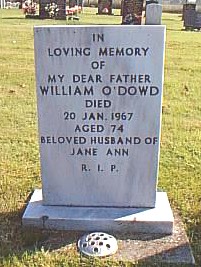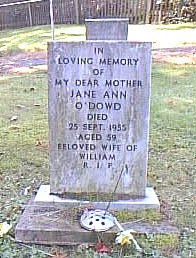 UPDATE ON NAME CHANGE
I've now located and obtained the 1939 Register for a very small number of family members, one of which is the register for William and Jane Ann.
As you can see from the 'entry' they are residing at No. 1 Holdforth Mill, Bishop Auckland. I have checked Google maps and can't find the location.
Of interest is the fact that at the time the register was compiled the name DOWD was still being used. It was changed to O'DOWD sometime after 1939 as shown in red ink.
There are four persons 'blacked out' and marked "This record is officially closed". The reason being: it doesn't show 'living' people, and its early days. Unless a copy of the original death certificate is provided by subscribers to the website, then we can be in for a bit of a wait for the "officially closed" to become unclosed.
But at least we are one step closer to learning about the name change.
Watch this space……